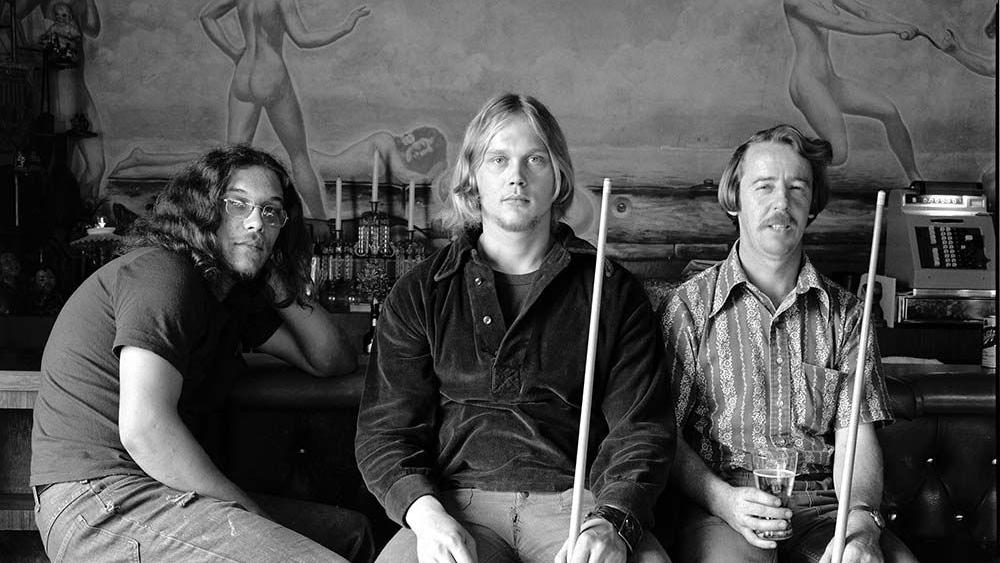 The exhibition at the Photographic Art Center shows the female gaze. | Art, theater and culture
Photographer and gallery owner Carol Henry curated the Center for Photographic Art's upcoming All-Female Photography Exhibition, She loves me, she doesn't love me.
She explains in an email: "Carmel's long history as a photographic epicenter has mainly focused on the work of renowned men through the 'west coast tradition'. I chose to be the curator of this exhibition because it had to happen.
She wanted to recognize the women who reversed the paradigm. These are therefore images of men, taken by women: "[It] takes us away from the usual photographic perspective of men looking at women, "continues Henry.
Included in the exhibition: Imogen Cunningham, who has been called an "immoral wife" for exhibiting nude art photographs of her own husband. Henry put two of these images in this exhibition.
The show features a dozen women, multiple photographs of each, in an unpredictable variety of styles – from artistic composition to documentaries to journalism. There are artistic images like "David" by Edna Bullock, of naked draped men across textured landscapes. There's some very real stuff like Jodi Cobb's "Subway Santas," a color photo of besieged Santa Claus from a shopping mall huddled together on a New York subway platform.
Flor Garduno – a Mexican photographer whose work is part of the permanent collections of the Museum of Modern Art in New York and the National Library in Paris – is in the exhibition. This is also the case with Cobb, one of the only female photographers on the staff of National Geographic, which has led her to travel and photograph in 65 countries during her career.
There is a catalog for the show that explains the role of women in the world of photography, such as this passage about Guggenheim-winning photojournalist and documentary filmmaker Mary Ellen Mark, whose photo of a haggard Marlon Brando is on the show. : "An intrepid approach to reality informs his work, whether photographing his own in-depth studies or on assignment for film studios.
Henry says the works of these women are in high demand for exhibitions.
The title of the show seems to suggest that rumination comes from a man's mind, considering a woman's love. But Henry says it's in recognition that some of the photos depict subjects the photographer shares a relationship with – lovers, husbands, family – while others focus on environmental studies or journalistic aspects.
This includes Judy Dater's "Daydreams" from 1973. Three men seated in a bar, two of them with billiard sticks in their hands, look directly at the camera with radically different expressions, while a large mural of women naked and nubiles frolicking on the beach hovering above them.
Edna did not take a camera until her photographer husband Wynn passed away.
Dater told Henry the photo was taken at a truck stop in Sonoma with a lady. Henry interprets it this way: "This image is a time capsule from the 1970s, when life seemed less complicated and a sense of freedom circulated in the culture.
But maybe we can see it in a different light. Shooting pool and drinking during the day is not an example of the most exhilarated activity, and the men are not the type who would be welcome to join the women pictured in the mural. Is it an image of liberation, of reality, of vulnerability or of illusion? And what about this title? "Daydreams".
At least its vagueness suggests less a definitive statement and more a conversation.
Speaking of which, there will be a pre-opening panel this Saturday January 7, hosted by local poet Patrice Vecchione and comprised of Carol Henry; Martha Casanave, present on the stage of the peninsula since the 1970s; Dixie Dixon, daughter-in-law of Dorothea Lange; Barbara Bullock, who will speak about how her mother Edna, who is included in the series, did not take a camera until the death of her photographer husband Wynn; and Judy Dater, from Berkeley.
On Tuesday January 10, Cunningham's granddaughter Meg Partridge will speak and show her Oscar nominated film Portrait of Imogene at the CPA.
2016 looked like the Year of the Woman in Politics and Power. That was before Hillary Clinton's shocked defeat, the impeachment of South Korean President Park Geun-hye, speculation about Ruth Bader Ginsburg's tenure on the Supreme Court and the death of Gwen Ifill. Henry thought we would now be celebrating the election of our first female president, which she said would have been a profound launch for the series.
"I was wrong. I think we just drew the 'Don't Pass Go. Don't get the $ 200 card out of the community vault. Now I feel this exhibit is going from celebration to appeasement.
But Henry adds that this exhibition is also organized to celebrate and inspire the kind of "tenacious, determined, revolutionary" spirit that these 12 photographers have exhibited throughout the century in which they have worked together. If so, this may be just the start of a movement leading to profound achievement, like the election of our first female president, in 2020.