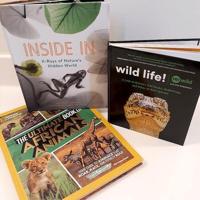 THE BOOK CORNER: Animal Books with Legs | Lifestyles
If he has four legs, you're good with him.
A tail is always good too and, well, let's face it: you're someone who loves animals – any type of animal, in fact, so why not look up these excellent books on wildlife?
When you think of wildlife, what comes to mind first? Bears and coyotes, perhaps? Or do you think of giraffes, lions and zebras? If you've listed these last three creatures, you must own "The Ultimate Book of African Animals" by Derek Joubert and Beverly Joubert, starring Suzanne Zimbler (National Geographic Kids, $19.99).
Filled with safari stories, action shots of real animals, and plenty of sidebars and stories, this book is absolutely perfect for the child who loves the kind of creatures they'll never share a room with. Check out the long legs and spotted skin of the giraffe. Go out with monkeys. Read the entire section on prehistoric creatures that once inhabited Africa. And holy cow, check out the jaw-dropping photo that accompanies "Snaky Encounters." For an 8 to 14 year old, this book is insane.
You can't care about wildlife without knowing as much as you can, and "Inside In: X-Rays of Nature's Hidden World" by Jan Paul Schutten, photography by Arie van't Riet (Greystone Kids, $19.99 ) might be one of the coolest books you'll find.
"Inside In" offers 9- to 14-year-olds exactly what this title promises: it's filled with x-ray photos of fish, amphibians, reptiles, birds and mammals. Young readers will see what a John Dory fish looks like while it hunts. They will see what birds have in common with rats and how they both differ from a crocodile. Look how a snake's spine almost looks like diamonds. Even better, there's this: In addition to the photos, Schutten offers insight into the life and biology of the creatures he features, in kid-friendly words that will appeal to curious adults as well.
For the older reader, say 14+, "Wild Life!" from re:wild with Syd Robinson (Adams Media, $16.99) is a sure winner.
Much like the volumes above, there are tons of images in this fascinating book of weird, bizarre, little-noticed, at-risk, or even possibly extinct animals. Continent by continent, readers get a complete idea of ​​how each creature lives, why its existence is in trouble, and what is being done to save the creature from extinction, if possible. Also included are great profiles of environmental defenders at work. This book is perfect for a young conservationist looking into animal conservation and habitat rehabilitation.
And if, of course, these books aren't right for the child in your life, be sure to check with your favorite local bookseller or librarian. It really is the superheroes here; at their fingertips, they have what you want and what your child needs to read next. While you're at it, be sure to search for "Wild Life!", "Inside In", and "The Ultimate Book of African Animals".
For a child who loves animals, these books have legs.
NOTE FROM TERRI: A