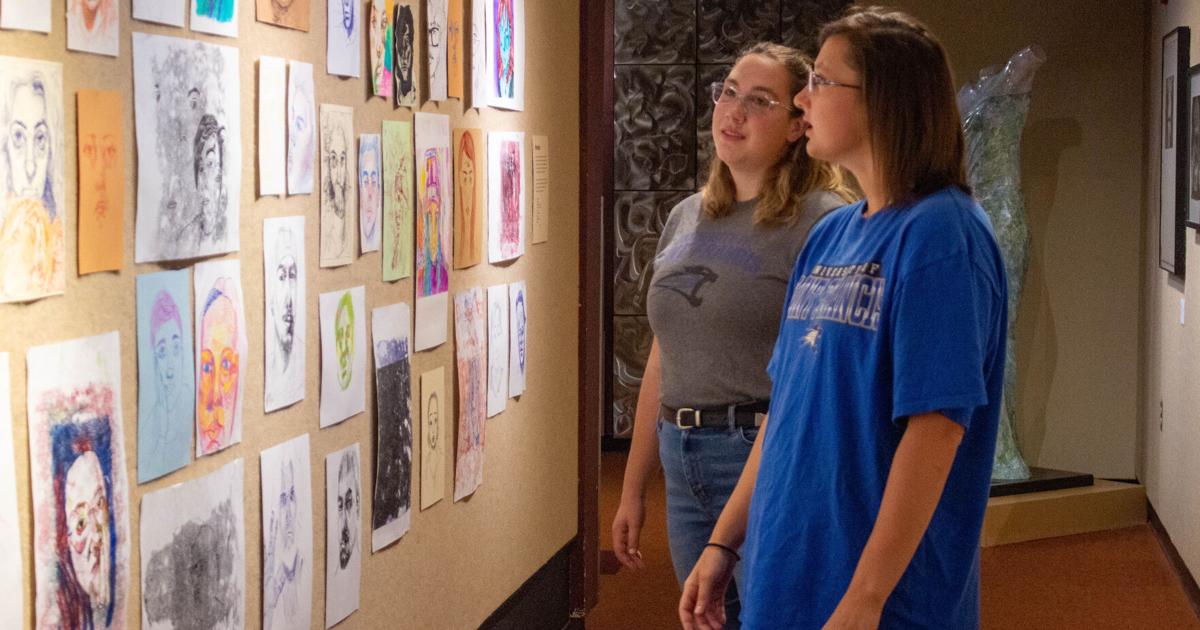 Saint Francis University students master the art of self-portraiture | Schools
As Callie Swangin created her self-portrait for an art class at the University of Saint Francis, she was aware of a variable irrelevant to her peers using pencil, charcoal and ballpoint pen – the timer of her camera.
There was "a lot of being in the wrong place every time it happened," said Swangin, a junior animation student.
Her self-portrait is among dozens on display at the Mimi and Ian Rolland Art and Visual Communication Center in an exhibition featuring renowned American artist Jim Dine. The exhibition includes some of his self-portraits, which show the evolution of his artistic process and how he interpreted his age.
"He revisits this theme quite regularly," said gallery director Justin Johnson.
Students in the studio art program were instructed to do the same. By revisiting the self-portrait, Johnson said, a psychological connection is created between an artist and their likeness over time.
The pupils' self-portraits – examples in drawing, painting, photography and engraving – mainly focus on their faces. Johnson said it's a common approach because facial features are more intimate.
As Johnson showed the students' works, he noted the female lines used in one self-portrait and the male lines used in another. Some self-portraits become abstract while others show only part of the face.
Art education student Morgan Thoma opted for a simplistic setup – a light, a mirror and a camera – to capture both her back and her face. She changed the image to monochrome using computer software.
"I had a lot of fun," Thoma said, noting the hours spent in the campus studio.
The Dine, "Vocabulary of Metaphors" exhibit runs through October 23 at the Center for Art and Visual Communication on Leesburg Road, on the southeast side of campus, 2701 Spring St. The opening hours of the gallery are 9 a.m. to 5 p.m. weekdays, 10 a.m. to 5 p.m. on Saturday and from 1 p.m. to 5 p.m. on Sunday. It is closed today.
"It's pretty amazing how we have such an established artist here," Thoma said.
On Saturday, the public can attend the President's Art Gala, an evening celebrating Dine's work. The free event will run from 6-9 p.m. and will include music, appetizers and a cash bar. Johnson will highlight the major works of the exhibition during a talk at 5:30 p.m.
Andria Derstine of the Allen Memorial Art Museum at Oberlin College will present a talk on Dine's artistic practice at 6 p.m. September 28 at North Campus Auditorium, 2702 Spring St.
Competition
The Sons of the American Revolution and the General Mad Anthony Wayne organization are partnering to award cash prizes at the local, state, and national levels for essays on the importance of teaching about the American Revolution era. The contest is open to public, private, and parochial elementary, middle, and high school teachers in the Fort Wayne area. The first place winner will receive $200 for a local win, $1,000 for a state win and $5,000 for a national win. There will be cash prizes of $5,000 for each national winning teacher at the elementary, middle or high school levels. Each winner will participate in a summer seminar for graduates.
In another partnership, the groups are seeking original orations from Fort Wayne high school students about a Revolutionary War event, person, or document, with a focus on the 250th anniversary of the nation. Speeches should be between 5 and 6 minutes long and delivered in front of an audience without the use of notes or props. The first place winner will receive $200 for a local win, $1,000 for a state win and $8,000 for a national win. The second place national winner will receive $5,000 and the third place winner will win $3,000. Applicants must be in ninth grade.
For both contests, contact Jim Hamilton at [email protected] or 260-409-9937 for an application. The deadline is 5 p.m. on November 1.
FWCS
Study Connection celebrated its 34th year of student aid with its annual Celebration and Appreciation Breakfast on August 25th. Study Connection began in 1989, founded by Don Wolf, retired CEO and Chairman Emeritus of Do it Best Corp. one with Fort Wayne Community School students in need of academic assistance. The pairs meet every week after school for an hour during the school year, with most students bused to and from local businesses for tutoring sessions. This gives students the chance to receive extra help with homework and to meet a mentor in the community and learn about local career opportunities. Call 260-467-8811 or email [email protected] to get involved or learn more about Study Connection.
Last month, the FWCS Board of Trustees approved Jeff King as principal of Miami Middle School. King retired from the district in 2019 with 34 years of education, but almost immediately returned as an alternate trustee. In Miami, he replaces Rena Clemons, now deputy director of Kekionga Middle School.
freedom academy
Freedom Academy is looking for instructors for advanced manufacturing, healthcare, and professional development courses. Instructors have the flexibility to choose the classes that best fit their schedules. Classes are held in person Monday through Thursday and typically last eight to 15 weeks. The curriculum, books, supplies, and instructions are provided to instructors, and they are encouraged to add their insights and experiences. Classes are held at Career Tech Educational facilities, Angola Training Center, Community Learning Center and other locations in Allen, Adams, DeKalb, Huntington, Noble, Kosciusko, LaGrange, Steuben, Wabash counties , Wells and Whitley. Go to www.freedomacademy.net/instructors for information.
Grace
Bethel University School of Nursing at Grace College sent students and faculty to Gamerco, New Mexico, for a week this summer to serve the Navajo Nation, a disproportionately impoverished and medically underserved region. The group has partnered with local churches to conduct blood pressure screenings and provide education on healthy lifestyle choices.
Acknowledgement
Fort Wayne's Edward Sun was among 10 winners of the Young Hero Awards presented by the National Liberty Museum in Philadelphia and TD Bank. The honor recognizes young people who have taken action to bring about positive social change in their schools and communities. Sun was recognized for using his love of music to found Second Strings, a charitable project committed to keeping the music community together by recycling, reusing and saving musical equipment. Second Strings donated over $10,000 in strings collected throughout the Midwest and Canada.
Scholarships
TE Incorporated, a local contracting/engineering company, awarded a scholarship for the fall semester to Lydia Myers, a young business student with a minor in psychology at Indiana University East. The TE scholarship is awarded to dependents of full-time employees.
The University of Saint Francis Busse/Fabini Cougar Classic golf outing raised $75,000 for student-athlete scholarships.
trine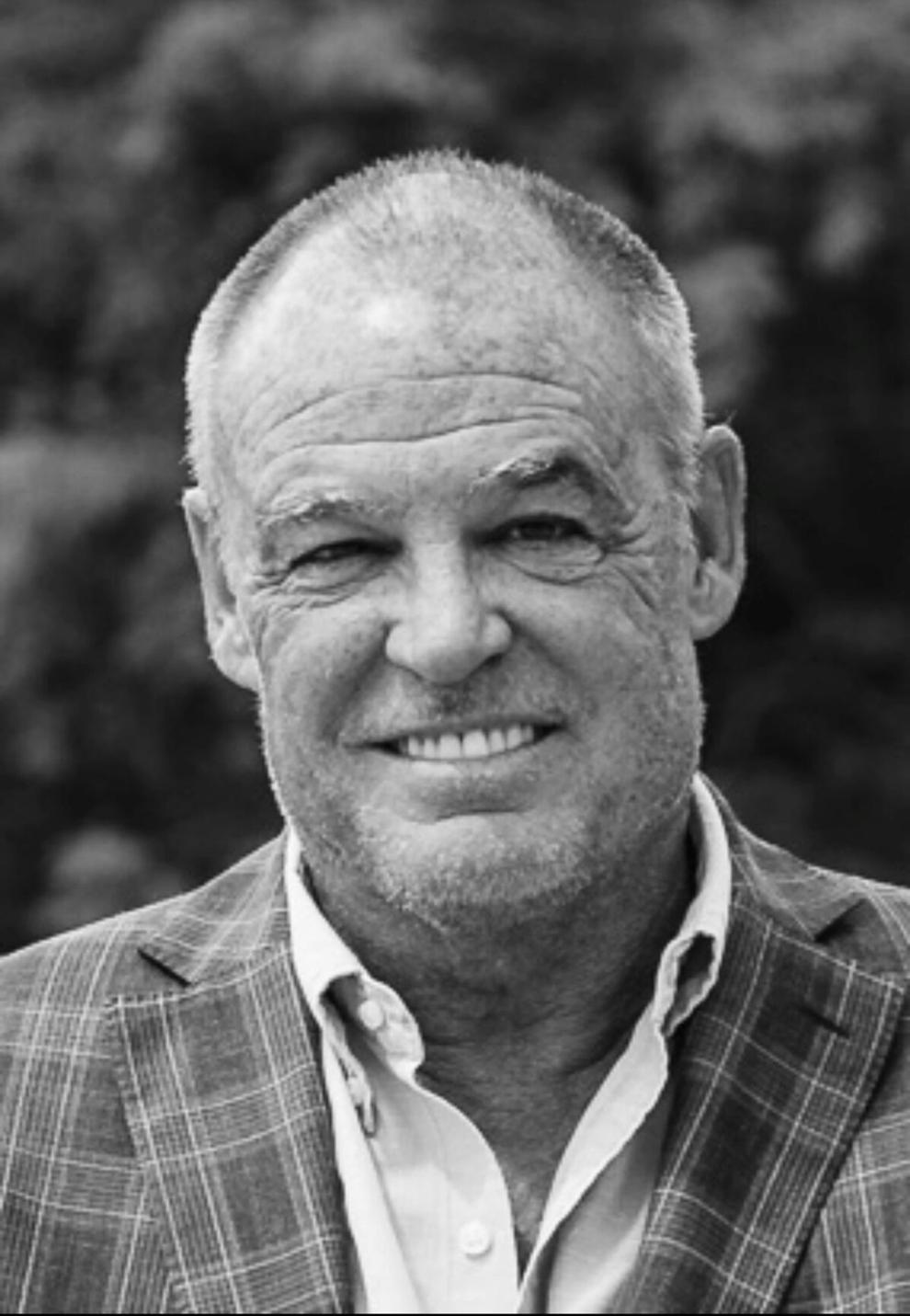 Trine's Board of Directors elected Mark Music, President and CEO of Ruoff Mortgage, from among its members.
Trine University is accepting applications for the RN-to-BSN program for the 2022-23 cycle. Prospective students can apply through the NursingCAS website, www.nursingcas.org. The program is designed to meet the needs of working registered nurses with the online format allowing them to complete a Bachelor of Science in Nursing degree on their own schedule and at their own pace. Each course lasts eight weeks or six weeks during the summer terms. Go to www.trine.edu/bsn for information.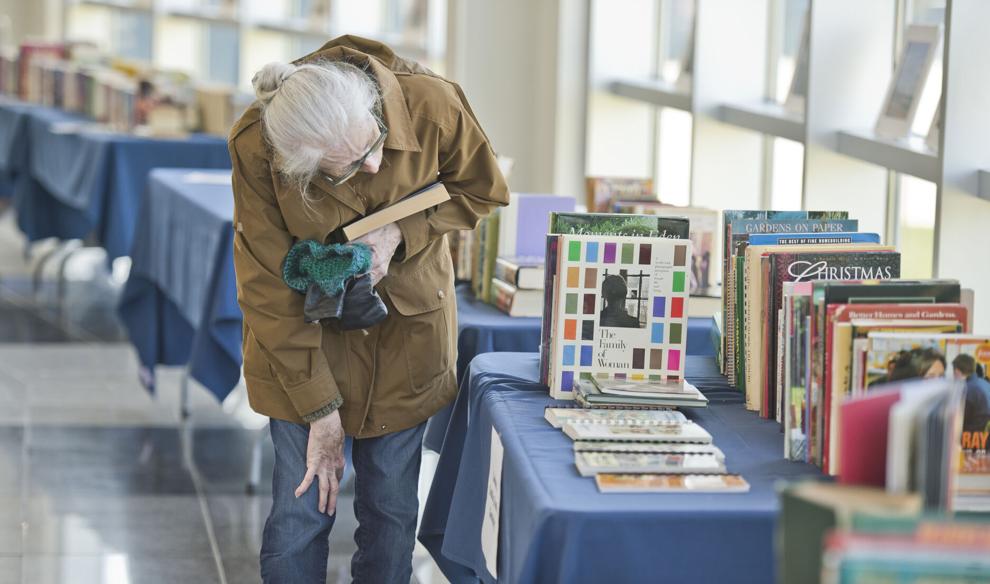 Trine's Humanities Institute is collecting gently used books until September 15 for its annual Book Night event. Collection sites in Angola are Caleo Cafe, Elemento, Angola City Hall, Calvary Lutheran Church, First Congregational United Church of Christ, and Taylor Hall on the university campus. Book Night will take place from 4-8 p.m. on October 13 at the T. Furth Performing Arts Center in Trine. Anyone who participates can take away the donated books free of charge.
Students and parents who have a favorite teacher can nominate the individual to Teacher Honor Roll. Send applications to The Journal Gazette, 600 W. Main St., Fort Wayne, IN 46802; fax 461-8893 or email [email protected]
To submit an item, send a typed release from the school or organization to education workbook, The Journal Gazette, 600 W. Main St., Fort Wayne, IN 46802; fax 461-8893 or email [email protected] at least two weeks before the desired publication date.