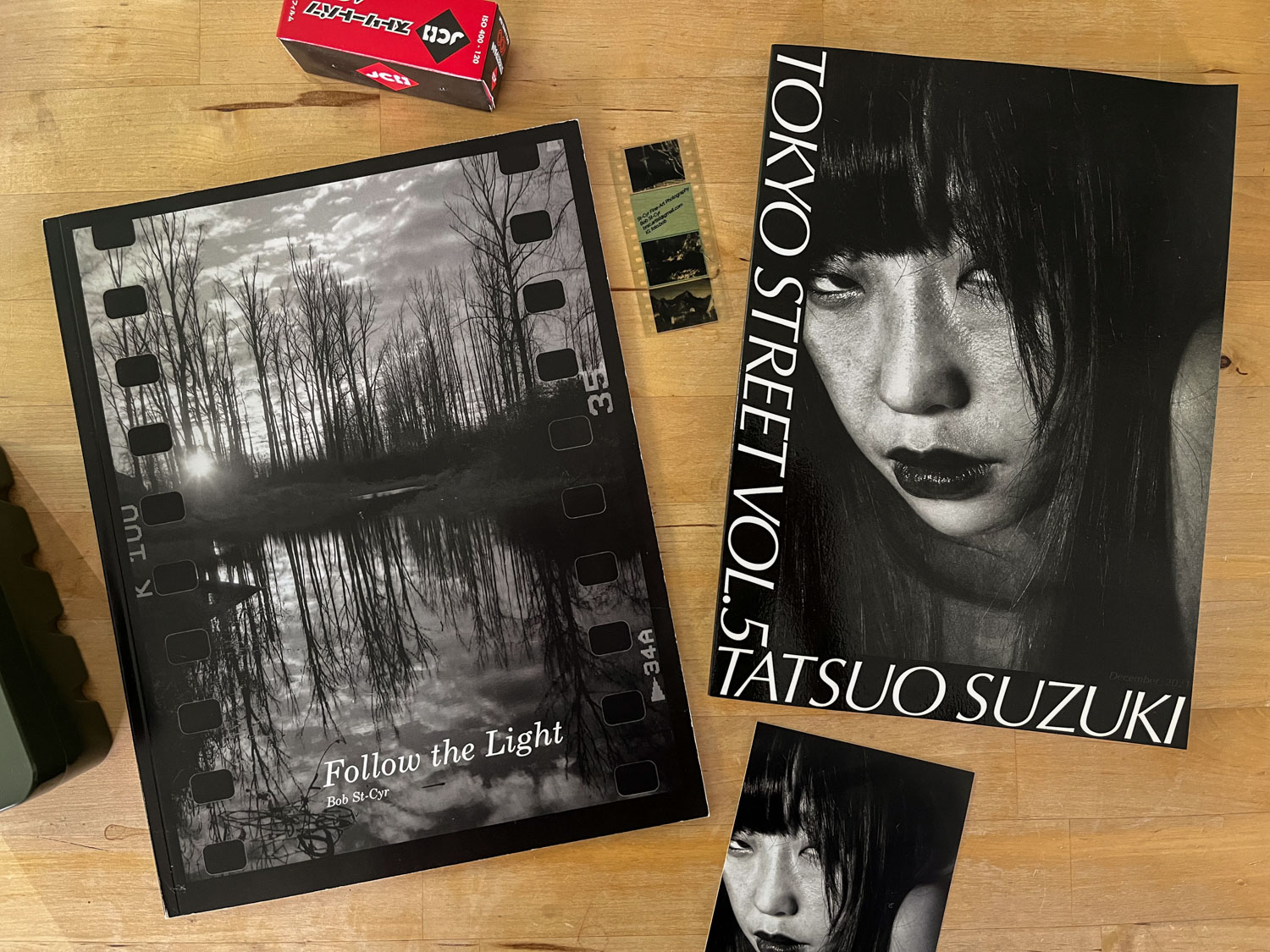 PHOTOGRAPHIC ZINES AND BOOKS NO: 45
Tokyo Street Vol.5 by Tatsuo Suzuki
Who?
We actually featured Suzuki in our last roundup with their Tokyo Street Edition Vol.3. A former visual interviewee, he is the founder of Empty Tokyo and at one point a few years ago notorious for his work with Fujifilm in which he was criticized for his photography methods (Google it).
What?
Tokyo Street Vol.5 is the latest in its ongoing series released in December last year. Perhaps more than the 2020 Fujifilm fiasco was more quietly its Steidl photobook release, so Vol.5 sees Suzuki simply hitting its stride with seemingly effortless street shots expertly stitched together as a cohesive work showcasing everything the artist is. As the essay included in the book points out, it tiptoes the line of fiction and non-fiction, as some are street shots and some are actual photographs of models.
It's a deliberate blur that photo critic Takazawa points out, "that in doing so he casts doubt on the myth that street shots are just an expression of the unconscious, and simultaneously puts them into perspective with hypersensitivity to the use of personal images and the symptoms of snap phobia.
Why?
With that fuzziness… it's the layout itself that has become more and more experimental than our previously revised Vol.3. Which, when visiting the group's annual exhibition Void Tokyo last month, was also the case! I like in a lot of work the photographers have intensified their use of digital photography… i.e. embracing it instead of hiding the fact has had a lot of artistic success at odds with my bias for digital photography.
Details
◆【ZINE ×1】
100 pages / B5 size (257×182mm)
◆【Impressions ×3】
size (89×127mm)
◆【Poster ×1】
A2 size (420 × 594 mm)
Text on the back: "A Prescription for Street Snap-phobia" by Kenji Takazawa (Photography review)
Where?
You can check out this and other zines and prints on his site here for an international audience & here for those in Japan.
Follow the Light by Bob St-Cyr
Who?
Bob St-Cyr is a Canadian art photographer. He works on all film formats (35mm-large format) beginning his photographic journey in the early 90s. He is guided by his simple mantra….'follow the light.'
What?
"Follow the Light" is a photo project made around Maple Ridge & Mission, British Columbia, Canada. Mission is one hour east of Vancouver. It is divided into three parts: the first is "Lac Alouette" which allows a serene study of the tree stumps along the shores of the lake. The second is "Fak-135" which uses 35mm film in a medium format camera to take various nature photos. The third is "Stave Lake Powerhouse", a historic hydroelectric plant. The images personally remind me of Charles Sheeler's work at the Ford Motor Company.
Why?
Perhaps Bob puts it best in the book: "Historian of photography Beaumont Newhall once said, 'Over the years photography has been to me what a journal is to me. a writer: a record of things seen and experienced, moments in the flow of time, documents important to me, experiences of vision. I can truly say that a lot of what I do photographically resonates with Beaumont's words.
Photography is a real privilege when as a photographer I can enjoy the experience of where I am photographing and then come home with some of those experiences as latent visual memories waiting for the next process to unfold. unfolds in the darkroom. Photography gives me a wonderful way to see deep into what has been framed in a camera and decide if the inner eye is moving to make an exposure or not.
The importance of photography is not only in the practice because I can, but because of the passion and the process, which reflects dedication, commitment and experience as innate ingredients in my relationship with the photography. Photography is for me a holistic and therapeutic experience, from the smells in the air to the sounds of nature, to the wind in my hair or the excitement of sharing my work and my techniques with others.
I am driven by the "doing" of my photographic art practice, going out…just going out with my camera(s) and rolls of film in my pockets or loaded film holders in my bag. I am driven by the interplay of light and subject and the blessed opportunities to capture some of this on film and later interpret the negatives into handmade gelatin silver prints. Here is a modest collection of some of my work that is film-based as I continue to follow the light…" – Bob St-Cyr
Where?
Unfortunately, the zine is no longer available.
You can follow his blog here and his Instagram here.
———————————————————————————
Thank you to our two guests for their contributions, it's really cool to be able to share them with you. And remember, it's open to everyone. If you want your zines or books featured, all you have to do is email me. I hope that many more of you will want to distribute your books and your zines all over the world. Another episode will be coming soon.
Thanks
-JF