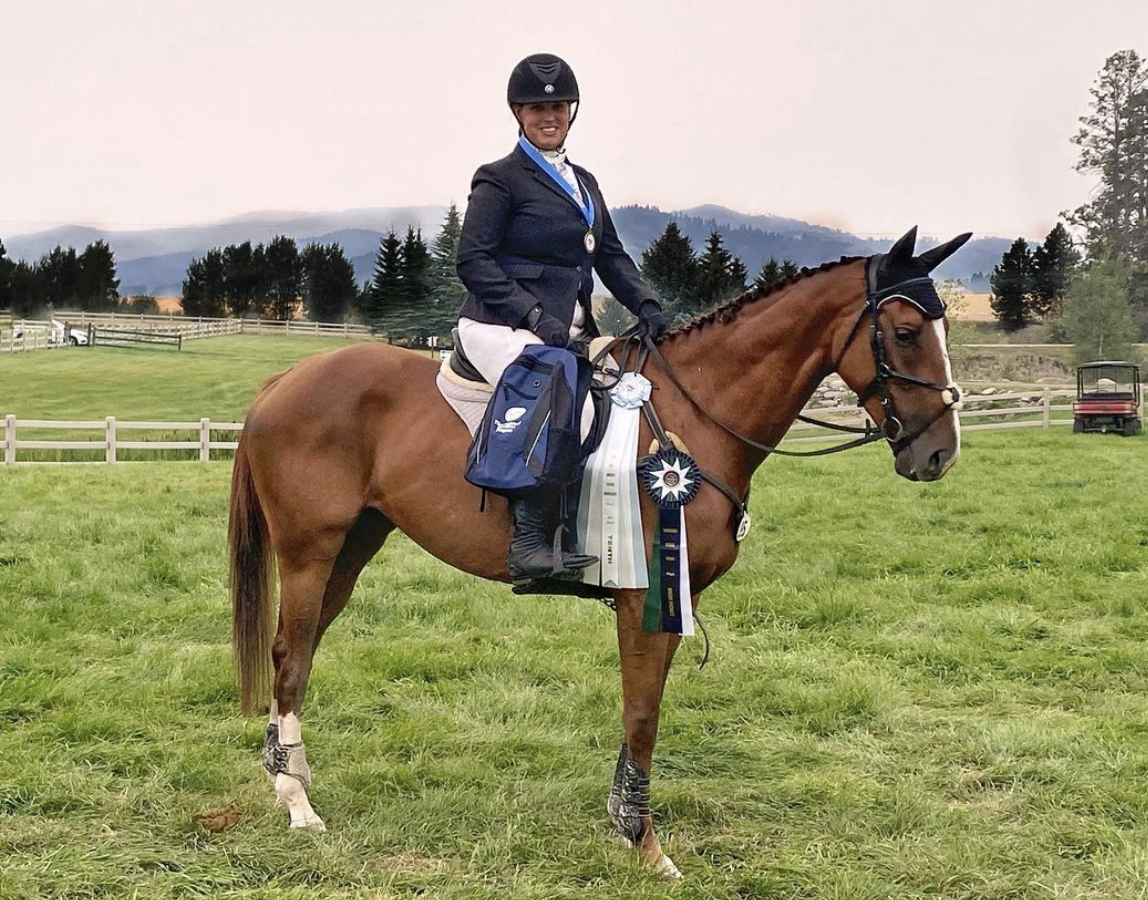 Labor Day Weekend Winners: AEC, Park Equine Kentucky, Course Brook, Silverwood, Chattahoochee, SVPC, Bucks County | Eventing Nation
As September kicks off, the fall season is off to a strong start with a busy weekend across the United States. From the USA Eventing Championships in Kalispell, Montana, to numerous other events in Kentucky, Massachusetts, Wisconsin, Georgia, Maryland and Pennsylvania, the Eventers were out. in full force.
Take a look at this weekend's recap as we extend our congratulations to all of this weekend's partners, with a special mention to this weekend's winners.
USEA USA Eventing Championships (Kalispell, MT): [Website] [Final Scores] [Shannon Brinkman Photography] [Ride On Video]
$60,000 Adequan USEA Advanced Final: Helen Alliston and Ebay (32.8)
USEA Intermediate Championship: Tommy Greengard and Joshua MBF (32.9)
USEA Jr./YR Bates Preliminary Championship: Maddie Smith and Versace (44.2)
Bates USEA Preliminary Horse Championship: Nicole Aden and Illustrator (26.8)
Bates USEA Preliminary Rider Championship: Eileen Galoostian and Ardeo Lord Lancelot (34.5)
USEA Bates Amateur Preliminary Championship: Amy Haugen and Ebenholtz (31.2)
Preliminary Open Festival: Kelly Groot and Super Nova (23.4)
Modified Open Festival: Sarah Sullivan and La Copine (26.4)
USEA Open Modified Championship: Madison Langerak and Normandy Kivalo (20.6)
Festival Open training: Stephanie Goodman and Esmèe (23.8)
USEA Amateur Practice Championship: Amber Pearson and Chosen One DF (27.6)
USEA Training Horse Championship: Tommy Greengard and Shannondale Farm (25.8)
USEA Training Jr. Championship: Lizzie Hoff and HSH Limited Edition (24.8)
USEA Training Rider Championship: Sarah Ross and Fernhill Heart Throb (28.6)
Festival Open Novice A: McLaine Mangum and Grantstown Mr. Big (32.9)
Open Novice B Festival: Teresa Harcourt and Csongor (26.4)
USEA Novice Amateur Championship: Kyla Tovar and Kilcoltrim Jacko (28.3)
USEA Novice Horse Championship: Tommy Greengard and Cappachina (26.4)
USEA Novice Jr. Championship: Olivia Keye and Oso Mighty (27.2)
USEA Novice Rider Championship: Alyssa Cairo and Paddington (25.4)
Festival Open Beginner Novice A: Louise Leslie and Cnick Cnack JJM (32.2)
Festival Open Beginner Novice B: Kelly Schwisow and Redfield Out Of The Blue (26.3)
USEA Rookie Amateur Championship: Jenna McFadden and Take a Shot (28.3)
USEA Beginner Novice Horse Championship: Madeline Backus and Slew the Blues (26.6)
USEA Beginner Novice Jr. Championship: Bridget Kelly and Windover Tarragon (27.8)
USEA Beginner Novice Rider Championship: Mandy Collins and Vatino (29.2)
Park Equine Kentucky Classic HT (Lexington, KY): [Website] [Final Scores]
Open Advanced: Elisabeth Halliday-Sharp and Cooley Nutcracker (44.9)
Open Intermediate: Kelly Ransom and Heart of Hollywood (35.0)
Open Intermediate Championship: Alexandra Baugh and MHS Fernhill Final (45.2)
Open preliminary: Elisabeth Halliday-Sharp and Quite Nice 11 (24.6)
Preliminary championship: Leah Snowden and Ormolu (34.0)
Modified Championship: Emily Watson and Kilcandra Prince Dignified (33.8)
Modified Open: Camryn Holcomb and Quite Breit (28.3)
Open training: Tate Northrop and Harrison (28.9)
Practice Championship: Julia Spatt and Uptown Funk (33.1)
Practice Rider: Lillian Dobat and Looks Like Lotte (30.7)
Novice Championship: Jane Musselman and Bentley's Best (26.8)
Novice Rider A: Madeline Bletzacker and Drummer Boy (24.7)
Novice rider B: Madeline Bletzacker and Landtino S (28.1)
Open Novice A: Lori Miller and Alien Invasion (34.4)
Open Novice B: Alexandra Knowles and Exmoor Denver (29.7)
Beginner Novice Championship: Claire Rigney and Ballyrk Comet (27.8)
Novice Rider Beginner A: Ana Montalvo and Musketeer (30.0)
Beginner Novice Rider B: Abigail Walker and Galway Bay Cooley (33.8)
Open Beginner Novice: April Hays and Anteros MSM (24.1)
Beginner Novice 3 Days: Hannah Reeser and Ltl Ireland Summr Soldier (27.8)
Open Starter A: Lila Beshear and Zillions of Promises (30.0)
Open Starter B: Willa Newell and Take A Chance (34.7)
Brook Farm Fall HT Course (Sherborn, MA): [Website] [Final Scores]
Preliminary: Charlotte Collis and Call The Law (53.8)
Modified/Training: Madison Haney and Sweet Charlotte of Chesterland (32.1)
Coaching: Isabelle Cless and Paddy Magee of Donnybrook (30.2)
Novice A: Talia Feeney and Kristofferson (30.8)
Novice B: Bryn Lauer and Dare to Dream (30.8)
Novice C: Darrah Alexander and Captain Kismit (21.9)
Beginner Novice A: Jenna Bunce and Remember When DDD (29.4)
Beginner Novice B: Leslie Bell and Sansa (30.0)
Entrance: Jillian Hoag and Dark Secret (27.0)
Silverwood Farm Fall HT (Camp Lake, WI): [Website] [Final Scores]
Open Beginner Novice A: Mark Ward and Moonlight Clover (30.3)
Open Beginner Novice B: Madison Bonamarte and Keeneghan Lad (34.9)
Open Beginner Novice C: Kathryn Elliott and Duke of Wellington (35.1)
Open Novice A: Morgan Risseeuw and Havana Skye (28.3)
Open Novice B: Jordan Scroggins and Bugatti from C25 (28.1)
Open training: Eric Dierks and Quintano (20.8)
Preliminary/Training: Erin Dierks and Frontier Force (37.0)
Holder A: Macy Herman and Sirocco (32.4)
Starter B: Brad Hall and Sandro's Spinne (30.8)
Chattahoochee Hills HT (Fairburn, Georgia): [Website] [Final Scores]
CCI Three Star – S: Conor Rollins and Prime Target (33.3)
CCI Two Star – S: Kalli Core and Mastermind (28.8)
CCI One Star: Breeana Robinette and Cape Kimberly (34.0)
Advanced: Leslie Law and Voltaire De Tre (34.8)
Open Intermediate: Leslie Law and Castle Howard Romeo (31.0)
Open preliminary A: Candace Elizabeth Bell and Fernhill Philm Star (24.1)
Open Preliminary B: Donna Miller and Coud'Poker (31.6)
Modified rider: Riley Lorenz and Cracker T (40.3)
Modified Open: Leslie Law and Really All Gold (26.3)
Open Practice A: Lara Roberts and Fernhill Show Biz (28.3)
Open Training B: Katie Malensek and Mister Capri Jr (24.0)
Practice runner A: Livy Chambers and Fernhill Destiny (29.7)
Practice runner B: Sarah Estess and lottery ticket (34.7)
Novice Rider: Maggie Shuman and Zach Eyed Pea (29.4)
Open beginner: Elisabeth Chizek and the military tradition (30.6)
Beginner novice rider: Lizzie Brennan and Holy City (29.7)
Open Beginner Novice: Andrew Palmer and Top Shelf (28.8)
Seneca Valley PC HT (Poolesville, MD): [Website] [Final Scores]
Open Intermediate: Ryan Wood and Check Point (52.8)
Open Preliminary: Tiffany Wandy and CV Outlaw (38.9)
Modified Open 1: Erin Murphy and Cooley Cadence (31.0)
Open Modified 2: Kendyl Tracy and Justified (25.7)
Modified Rider: Lisa Apted and Yeats Royale (34.3)
Senior Coaching: Jessica Gehman and Ray Price (25.7)
Junior Training: Emma Wick and Avalon Realta (26.0)
Open Practice 1: Michael Pendleton and Adorrado (30.0)
Open Training 2: Marley Stone Bourke and Superstorm Sandy (24.3)
Novice horse: Keara Schmidt and Electric Quality (25.5)
Open Novice 1: Katherine Lorenzen and Mitford (26.1)
Open Novice 2: Krissy Smith Shellenberger and Quantum K (21.9)
Junior Novice: Iselin Byars and Bloomfield Pocket Money (27.8)
Senior Novice: Lauren Allen and FGF Bob's Wired (31.7)
Novice rider: Kate Wood and Prinz SW (23.7)
Open Beginner Novice: Michael Pendleton and Chance of Liftoff (26.9)
Novice Junior Novice: Rivka Abelow and Vino del Porto (33.8)
Senior Novice Novice: Kate Hill and Bijoux Bay (32.8)
Middle TIP: Daisy Trayford and Ermintrude (63.7)
Preliminary TIP: Tiffany Wandy and CV Outlaw (39.0)
Modified TIP: Brittany Hebets Miller and Stuck on Gold (36.0)
TIP Workout: Victoria Miller and Caspers Run (31.0)
Novice TIP: Amy Boccia and Fireflly (28.0)
Beginner Novice TIP: Melissa Fox and Rogue Patriot (32.0)

Bucks County Equestrian Park HT (Revere, PA): [Website] [Final Scores]
HT-Preliminary/Training-Open: Jennifer Brannigan and Ottakringer (40.7)
Open Training I: Ryan Wood and I'mhereallday (27.9)
Open Training II: Jennifer Brannigan and FE Flint (27.9)
Open Novice I: Ryan Wood and Ben Lomond (29.2)
Open Novice II: Caitlin Silliman and Tullibards Xcellence (23.3)
Open Novice III: Kevin Keane and Fernhill Shutterfly (27.3)
Open Beginner Novice 1: Elena Carmichael and Take Flight (32.0)
Open Beginner Novice II: Brian Kilgo-Kelly and Caspian (29.0)