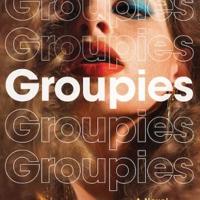 Books and magazines: Groupies | Books and reviews
If you're looking for a dark, gritty novel that examines the underside of the 1970s rock scene, then Sarah Priscus's debut novel Groupies is the book for you. The year is 1977 and college dropout Faun Novak has decided to move to Los Angeles to reunite with her high school best friend, Josie. A budding photographer, Faun has quickly joined Josie's new circle of friends, who happen to be the groupies of a popular rock band. Never leaving home without her polaroid camera, Faun quickly becomes the group's photographer, documenting every moment offstage and falling more deeply in love not with the group, but with the groupies' lifestyle.
Undoubtedly, this novel is a strong debut for Priscus. She knew how to take this enviable lifestyle, being in the inner circle of the rich and famous, and turn it upside down by showing how tiring, lonely and isolating it can be. The common thread of this novel was that of belonging and excess. Groupies all want to feel special, like they're different from everyone else, like they're the real fans, like they belong. Of course, just like all the drugs and booze the rock stars in this novel go through, the girls themselves are just as expendable, after all, there's always another ready and willing to step in to give these icons a shot. rock all the love and adoration they crave. As I first mentioned, this novel is dark and gritty, and that's what makes it so enjoyable. You pity most characters, frustrated with their naivety, but are drawn to them like a moth to a flame.
Groupies by Sarah Priscus (Harper Collins) is available now.
Meredith is a Disney-obsessed stay-at-home mom. When she's not planning a trip, you'll find her with her nose in a book. Follow her on instagram.